WHAT IS BOTOX?
Botox is a popular cosmetic treatment to replenish your youthful features and make you feel renewed. Millions of people benefit from BOTOX® Cosmetic treatment every year. Men and Women world-wide enjoy the rejuvenating effects of BOTOX. Looking great dramatically influences the way we feel about ourselves and the way people interact with us every day. BOTOX is a purified protein that causes tense muscles to relax. Originally this was useful in the treatment of many neurological conditions. Doctors using this groundbreaking medicine noticed that, as a side effect, deep lines in patients' foreheads softened and their skin smoothed out. Since then BOTOX has been used to successfully treat wrinkles and facial creases. BOTOX is most often used on lines ground eyes (also known as "crow's feet") or frown and forehead lines.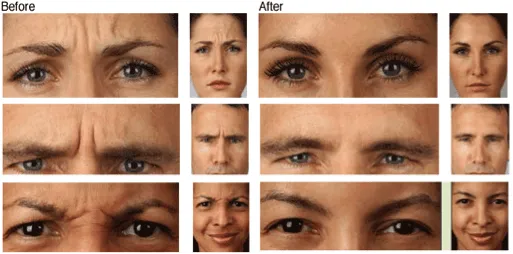 WHAT IS JUVEDERM?
Juvederm is an effective & safe treatment used to smooth your skin and return your facial contours to their naturally youthful & healthy state. The active ingredient is hyaluronic acid (HA) which is actually a naturally-occurring sugar found in your body. It stimulates collagen production in your skin and retains water, instantly restoring unwanted lines, enhancing lips, cheeks and jaw-line as well as other areas. Benefits include added volume and definition of facial features while maintaining a natural, symmetrical and enhanced appearance. You can restore fullness in your cheeks or chin, improve lips, jaw-line and plump up smile lines. Depending on your goal, JUVEDERM can be used for many different purposes.
Many patients from all over New Jersey and New York have enjoyed younger-looking skin with painless BOTOX or XEOMIN treatments administered by Dr. Sonia Giordano. You can have BOTOX or XEOMIN to eliminate wrinkles like frown lines, forehead lines, crow's-feet and bunny lines around the nose. A 20-minute treatment with BOTOX or XEOMIN greatly reduces the appearances of these wrinkles and you'll also prevent the formation of new wrinkles. You may resume normal activities immediately after treatment, and you can combine BOTOX or XEOMIN with other treatments, including Injectable Fillers, microdermabrasion and facials.
If you want to look years younger, at a price you can afford, with absolutely no downtime, you'll love how you look with a Liquid Face Lift. You'll get BOTOX® Cosmetic along with Injectable Fillers for other bothersome lines, wrinkles, and folds. Results are completely natural, and you'll see dramatically youthening results immediately.
There may be discounts or other benefits offered by the makers of BOTOX or XEOMIN so please Contact Us today so you can set up a consultation and possible same day treatment, so we could see what might be best for you.